Books
TOIT Monograph: A Treasury of Touchstones for Personal Achievement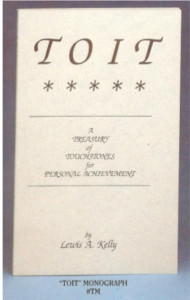 This unique monograph is a collection of personal reflections, practical principles, philosophical nudging, and guilt-provoking admonitions to get RIGHT things done RIGHT and ON TIME … NO NONSENSE, NO EXCUSES, NO EXCEPTIONS and NO REGRETS.
Inspired by the idiomatic and ubiquitous ROUND TUIT (as in "I finally got a ROUND TUIT"), this work establishes a benchmark series of graphically illustrated reference tools – symbolic touchstones – bundled with key productivity concepts for personal advancement.
TOIT is generously whimsical, engagingly instructive and intimately challenging. Though not always totally grasped at first encounter, its curious marriage of simple absurdity, pragmatic experience and moral imperative makes it an addictive adventure. One company president wrote: "I think you've got something … I would like to get 100 copies for my company executives and my Young President's Club."
Price: $6.95 + Shipping & Handling
---
Life and Work Visioning & Vectoring Quotations
More than 5,000 life-work visioning and vectoring quotations are available from highly selected sources. These can be packaged in various forms for personal or group reference, including by subscription for weekly or monthly distribution.
[Contact EU Headquarters for options and arrangements]
---
NOTES TO THE DESKPAD, Ten Volumes by Lewis A. Kelly, Ph.D.
This is a ten volume collection of long and short thoughts generated over a period of ten years at the front lines of engagement in building a rapidly evolving Center of Excellence in cancer research and treatment at the University of Kentucky.  The underlying theme of Notes to the Deskpad is that a work-life, well-lived and well-worked requires everything we got – and sometimes alot more than we bargained for.  Each entry is intended to expand personal vision, provide valuable perspective, instill understanding and inpire and energize new initative.
Price:  Ten Volume Set is $20.00 + Shipping & Handling
---