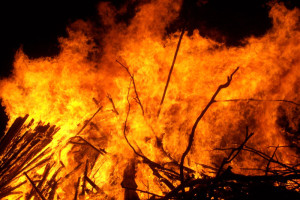 We adopted a kitty about 12 years ago that is now in marked decline … with issues of hyperthyroidism, high blood pressure, a detached retina, arthritis, hypokalemia and kidney problems.  She is on six different medications, four of which are on an alternate delivery schedule twice a day.
The hyperthyroidism, a "prime contributor" to the whole lot, caused her to burn extra calories and lose half her weight over a period of six months.  To curb the weight loss, we quadrupled her thyroid meds, but that basically reduced her "quality of life" to merely sleeping 23 hours a day.
This past week we backed off the thyroid meds, and – amazingly – got our kitty back … almost to her full 4 hours a day!  So we've decided to let her live full-out whatever time she's got left while "burning herself up", with medications backed off to minimal, behavior-maintenance levels.
The experience with kitty underscored the fact that very little is permanent in life – especially dealing with life, itself.  And "Quality of Life" is much more important to most of us than our length of days.
One learns some hard lessons about quality of life and length of days from cancer management, where treatment can, in many cases, at least seem to be "worse than the disease".  Oncologists constantly ponder the question of whether or not they may be "killing the patient with kindness" by trying to preserve quality of life and not intervening with everything they've got so as to minimize side-effects.
This sort of dance … between living life to the fullest in the present versus preserving what we can for the future … is now playing itself out much faster than we may realize, with major political, economic and social implications.
The new Republican regime in U.S. political control has clearly declared NOW … and US … and prosperity at any cost … to be primary emphases for at least the next four years.
Actually, this is not a new theme.  As individual citizens, we've been doing it for years.  We like to "LIVE LARGE" … getting OUR piece of the pie while we can, running up debt and paying as few taxes as we can get away with … and "letting the chips fall where they may" … hopefully, as far into the future as we can keep kicking the can down the road … for "somebody else" to pick up the pieces … if there are any pieces left to be picked up at all.
So we're rolling back regulations, reducing taxes for the wealthy, running up more debt, burning our fossil fuels, bleaching the corral, poisoning our air and water, over-fishing the seas, reducing wild habitat, opening up national preservation lands to get more fuel, getting rid of entitlements so that citizens can make their own free choices much more freely, etc., to "Make America Great Again" – while we can:
BURN, BABY, BURN!
A compelling reason for such behavior in the mid-to-late 20th Century was so that we might remain competitive with other major nations – particularly China and Russia, but also Indonesia, Brazil and Mexico – who were brutally savaging their own natural resources to compete with the U.S.
And "burning the furniture" to fuel development of a higher quality of life and more profitable and sustainable framework for existence does have occasional merit.
Richard Arkwright was a poor barber with a Dream and a Destiny to create a machine for carding, drawing, roving and spinning cotton goods.  At great sacrifice to his family, he acquired and applied raw materials for machinery to make his Dream a reality.  He was ridiculed by the townsfolk, toiling into the wee hours of morning seven days a week; his family often suffered for lack of food and clothing while he worked at his "machine"; and "he became so ragged that he could not go abroad in the daytime".   [Portraits and Principles of the World's Great Men and Women by William C. King 1897 (reprinted in 2015 by Forgotten Books, p. 216)]
However, Arkwright eventually succeeded in developing his "machine" and became one of the foremost British inventors and entrepreneurs of the early 18th Century.   [https://en.wikipedia.org/wiki/Richard_Arkwright ]
Fortunately, very few in the 21st century are compelled to forego such fundamental needs to significantly advance themselves and their families.  Unfortunately, so few feel compelled to advance themselves at all!  (Doesn't life just keep getting better?)
"Some day, my ship will surely come in and I will live happily ever after!"
LIKELY NOT!
The COST OF LIVING requires that we burn SOMETHING … time and energy, for sure!  But the highest quality of life – the cost of LIVING WELL – demands that we sacrificially "burn" a lot more – including fantasies, fiction, and a whole lot of "luxuries" – if we're going to realize sustainable progression in the main.
Choosing what to burn and what to preserve makes us or breaks us.  Burning our potential and possibilities in order to fuel immediate gratification is a practice destined for ultimate failure, no matter how "good" it might feel in the present.
"We have to sacrifice 'Good' to get 'Better'."
Glen Campbell
Following a virtuoso violin performance at Carnegie Hall, an audience member gushed to Fritz Kreisler:
"Mr. Kriesler, I would give my very life to play the way you do!"
[Oh?  And what were you burning while he was honing his craft?]
Point to Ponder
The most indispensible, infinitely minable and non-consumable fuels one can acquire are
KNOWLEDGE and EXPERIENCE.
"Consumable" resources of time and energy required to attain and apply knowledge and experience are well within reach of every person on the planet: Both time and energy can be conscripted from trivial pursuits, and energy can be almost limitlessly renewed and expanded.
Bottom Line: Use your unscheduled time and renewable energy to pile up KNOWLEDGE and EXPERIENCE, and then create the most purposeful conflagration you can muster: BURN, BABY, BURN!  Unlikely Champions do it.  Elite athletes do it.  Astronauts do it.  [ https://en.wikipedia.org/wiki/The_Right_Stuff_(book) ]  Now YOU do it!  Quartermaster
Photo Attribution
By Fir0002 [GFDL (http://www.gnu.org/copyleft/fdl.html) or CC-BY-SA-3.0 (http://creativecommons.org/licenses/by-sa/3.0/)], via Wikimedia Commons