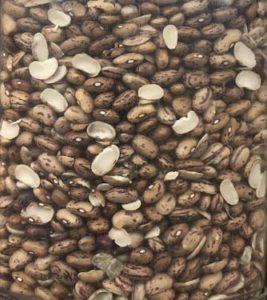 It's a dismissive / derogatory term of disparagement:
"Not worth a hill of beans!"
 "You don't know beans!"
… as if – everybody knows – beans are not worth very much, even piled in a "hill", and NOT to know as much as something NOT EVEN worth as much as beans takes you completely out of the game!
First, some facts about beans: https://en.wikipedia.org/wiki/Bean
Beans are one of the longest-cultivated plants in the history of civilization.  The combination of beans and corn or beans and rice comprise the basic diet of much of the world's population.  In 2013, over 23 million tons of dry beans were commercially produced by the top 10 bean-producing countries … including the U.S. (with over 1 million tons).  [That's quite a "hill of beans"!]  This doesn't include the thousands of tons of "wet" beans produced annually in back yards.
Global production of soybeans (not merely "dry" beans) was estimated to be 324 million tons in 2016.  https://en.wikipedia.org/wiki/Soybean
As for nutrition:
"Beans are high in protein, complex carbohydrates, folate, and iron. Beans also have significant amounts of fiber and soluble fiber, with one cup of cooked beans providing between nine and 13 grams of fiber.  Soluble fiber can help lower blood cholesterol.  Adults are recommended to have up to two (female), or three (male) servings daily. 3/4 cup of cooked beans represent one serving."
So, although beans may seem simple, ordinary, banal and inelegant due to the sheer volume, prevalence and commonplace use throughout the world, they are an unapologetic staple!
We conclude, then, that the assertion "Not worth a hill of beans" arises from the relatively low cost rather than from the considerable intrinsic value of beans.
Notwithstanding all of the above, it seems incumbent on each of us to reach at least a "Hill of Beans" level of legitimacy!
Above all, know your beans.  And know BEANS from BAGELS!  Become the "Go-To" / First Reference Resource for whatever kind(s) of "Beans" you represent.  If your "Beans" happen to be comprised by Twitter feeds, sports statistics and/or direct quotes from horror movies, you may want to rethink the street value of your particular brand of "Beans".  Quartermaster
Just for the health of it, here are my favorite bean concoctions:
Pioneer Beans: http://www.cooks.com/rec/search/0,1-0,pioneer_beans,FF.html
Paisley Farms 5-Bean Salad: https://www.samsclub.com/sams/five-bean-salad-2-35-5-oz/prod9140085.ip
Bob's Red Mill 13 Bean Soup Mix: (Kroger)
https://www.bobsredmill.com/recipes/how-to-make/13-bean-soup-mix/
[Supplement with diced onion, shredded cabbage, diced carrots, diced ham and 1 tsp. "Better than Bouillon" soup base.]