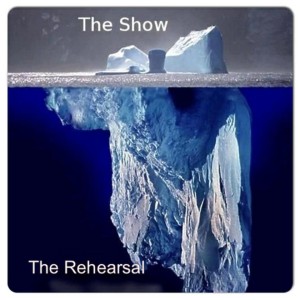 At some point – and earlier is better – we have to "Get Real" about the unalterable "Cost of Living" … about all the stuff "below the water line" that "floats our boat".
Life's Tough!
The CHALLENGES are formidable,
the RESPONSIBILITIES are awesome,
the EXPECTATIONS are out-of-sight, and
TIME is always too short for what we want and need to do.
With all of the above hanging over us, the cost of living is not trivial – it's the COST OF LIVING, PERIOD!  And the cost of living WELL is … , well … , a lot higher than a great many of us are willing to pay at first encounter.
So we muddle through, ignoring the COL; we moan and we mope about how "put upon" we are and about amorphous things like government over-reach making life so difficult – when government "over-reach" is the only thing keeping many of us from going over the edge!  There wouldn't be food stamps or interstate highways or police or fire protection or Medicaid, Medicare or Social Security, or libraries or a whole lot else without government and taxes.  It's part of the cost of living in a civilized nation.
The cost of living formulation includes doing your homework, getting certified, being accountable, and "paying your dues".  It means paying the "Entropy Tax" just to stay even (life, like water, tends to run downhill when not damned up or pumped up … iron rusts, dust bunnies accumulate, telomeres shorten, infirmities accrue, and attrition happens.)  There is an " … OR ELSE … " clause in the Cost of Living formulation: Exercise, eat right and stay off drugs … OR ELSE … you're going to pay for it in unmitigated stress, "bad vibes", poor health and low self-esteem.
And there's a "maturation matriculation tax" (You become another day older, and people have a right to expect more – and better; in addition, our wants expand; needs expand; personal expectations expand; and experience, productivity and accountability have to expand, accordingly.)  You want a better job, a promotion, a bigger house, a bigger TV, a better hedge on retirement … ?   Then show me what MORE than you've already got or done you're willing to do to deserve it!
The Cost of Living only goes one direction – UP.
UPPING our ability to cover the Cost of Living includes closing GAPS in our combined arsenal of knowledge, skills, achievement, perspective and understanding.  It means finding RELEVANCE and BEING relevant.  It means being OPEN MINDED.  It means being TOLERANT.  Yes, those are integral parts of the cost of living WELL!
The Inca Indians had a "Cost of Living" tax, called a Mit'a Tax.  This was a societal "service tax" paid by serving time rather than monetary exchange, doing "drudge" and "grunt" work needed to make the Inca empire at large run smoothly.  Rock quarrying to build the great Inca Empire fortresses was probably one of the most onerous and difficult assignments; workers were rotated on and off duty to minimize productivity slumps plus "burn out" and health problems in the workforce.  [Realm of the Incas, Victor W. von Hagen, The New American Library 1957, pp. 75-77]
One of the COL taxes frequently overlooked is our EXECUTIVE FUNCTION TAX – the tax we must pay in time, mental energy and discipline to keep our feet on the ground, our backbone straight, and our heads screwed on; … to become and stay organized; … to keep our priorities straight; … to monitor and manage our financial and physiologic wellbeing; … to review and reaffirm our core values; … to review and realign our core mission and purpose; … to review and reaffirm our alliances and associations; … to monitor and manage our unscheduled time.  It's the tax we must pay for decision-making, strategic planning and expanding our capacities.  And we need to upgrade our Executive Function wirings and wanderings to accommodate both growth and change.
If you haven't recently considered the Cost of Living … indeed, the Cost of Living WELL … maybe it's time to OWN UP and get with the program!  As imponderable as all of the above may seem, we make life so much harder than it needs to be by trying to opt-out of cost of living assessments.  Here's some important perspective:
"You only have to do what you can do;
but you have to do that much."
Garrison Keillor
The main benefit I've noticed in mustering an acute COL awareness is that I have personally quit complaining about menial chores, interruptions, and COL "stuff" that used to be such a burden – because I MADE IT ALL SEEM SO UNNECESSARY!  But who can complain – and who do you complain TO – if all this "stuff" is simply part of the "Cost of Living"!?!
So here it is, pure and simple: Pay your daily Mit'a and COL taxes, and smile while you're doing it … because, even though you may not be "putting points on the board", at least you're not in as much danger of being penalized or having points taken off.    Just DOIT!  Quartermaster