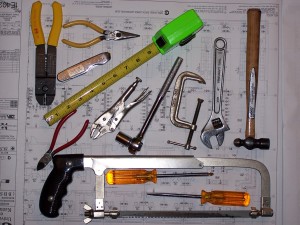 "Every new DIY project justifies the acquisition of a new tool!"
Herbie Halfmaster
[After all, the savings on labor and on avoiding subsidization of someone ELSE'S tools
more than makes up for the cost of whatever you need to do the job yourself …
… at least up until one has to be bailed out by a REAL expert!]
I've found, so many times – like today, that having the right tools to do a job is an indelible key for both getting projects off the launch pad and getting jobs done.
I once had the enviable offer from a former boss to take on a moonlighting job for an ancillary organization whose Board of Directors he chaired.  His enticing conjecture was "You could run this place out of your back pocket!"  He didn't entirely appreciate how many of my "back pocket" tools were already totally committed to my "sunlighting" job at the place I was already IN!  So I gratefully declined.
What "TOOLS" are you carrying in your personal toolkit – in your "back pocket"?  And how up-to-date and relevant are they for what you need to do and where you want to go?  Here are some suggestions:
KNOW-HOW is one of the first best.  But it needs constant sharpening, "pruning" and updating with the latest "software", and it needs constant expansion.  "Know-How" includes knowledge, specialized skills and aptitudes.  It makes tough stuff easy!
A DETECTIVE'S INQUISITIVENESS: Daring to ask the tough questions: Where is the evidence that "I'm Special"?  How does the world really work?  Where is the best opportunity for growth and for the realization of my true potential?  Am I really being as efficient/effective as I can be?  Am I doing the "important" at least as much as I'm doing the "urgent"?  What's possible?  What's next?  What am I missing?
A MARINER'S SEXTANT and COMPASS – to measure the "trueness" of our position in relation to the most reliable guiding star we can find, and to help maintain our direction toward our ultimate GOAL.
EMOTIONAL INTELLIGENCE:  This absolutely essential "tool" provides an ability to work through difficult times/circumstances while maintaining some semblance of equilibrium and still forging productively ahead despite barriers and disappointments.  It also provides an ability to recognize, respect and maintain rapport with others amid diverse emotional states on all sides.  EI is essential to support calculable risk-taking in moving toward new horizons, associations and possibilities.
PURPOSE/MISSION/PASSION:  An incontrovertible "reason for being and doing" … an uncompromising INCLINATION toward advancing the most noble "Agenda" we can muster.
"GRIT": Unwavering  commitment, determination and persistence required for making an indelible "Mark" in the universe.  (Ref. Angela Duckworth)
A DEFINABLE POSITIVE:  To draw us unflinchingly toward our goal.  It could be the GOAL itself or the associated satisfaction and affirmation derived from a job well done.
A DEFINABLE NEGATIVE:  Something to be avoided … like destitution, failure, disappointment, regret, embarrassment … like having to say "I coulda / shoulda been a contender!"
BLINDERS: To shield us from distractions.
A VALUE RULER:  To assure true worth of what we do – to help make Gold Star choices.
A REFLECTOSCOPE: Asking the questions: Does this make sense?  Is this important?  Let's do a REALITY CHECK!
A MIRROR: To see how well we are measuring up as Masters of our own Destiny.
A RETROCHRONOMETER: To help count time in reverse … so we can get the truest "reading" on how long something is going to take.
An "OWE ME" VOUCHER:  This voucher provides us guaranteed access to preferred indulgences LATER as we engage DELAYED GRATIFICATION in tending the more compelling business(es) of NOW.
An "ORGANIZER VISER"/THINKING CAP: A tool to aid in "Getting our act together" … promotes Strategic Planning and the generation of Tactical Ways and Means.
A TID BIT – A wrist band reminder:  Time Is Disappearing /\ Begin Insightful Trajectory
This novel tool helps take best advantage of UNSCHEDULED TIME.
A BOX OF INVITATIONS: To assist in recruiting significant others.
A CONSULTING VOUCHER: To get the best advice and guidance that our "Stock in Trade" can conscript.
A Pair of "BY-GOD ARMORALL COVERALLS":  A vestment for imponderably difficult jobs … a vestment that confer invincibility of intentionality … a vestment which permits no excuses, no options for side-tracking … only option is full steam ahead!
A JUMP STARTER: To get us GOING!
A LICENSE to do "THE RIGHT THING": An indemnification against censure for anything and everything that justifiably needs to be done to assure best outcomes.
One of my collaborators along the way – who was much more experienced in the "Ways of the World" than I was – repeatedly declared that he was not about to be anyone else's "tool" … meaning that he had taken himself out of the running to do anyone else's bidding for anyone else's personal gain.  However, there were other times he had to concede that he was, in fact, submitting to or had otherwise been knowingly used as a "tool" to further his own purposes.
* * * * * * * * * * * * * * * *
What if you had in your tool box a MASTER TOOL that could perform its own maintenance, transform itself into multiple specialized tools for specialized purposes, clean itself, put itself away where it could always be found, regenerate its own energy, make its own bed, prepare its own meals, solve problems, be self-programmable, mow the lawn, perform complex and ever-changing algorithmic functions, program a computer, is self-driving, can be constructive or destructive /\ compliant or defiant depending on circumstances and pre-programmed coding … ?!?
It turns out that we actually DO have such a tool at our command – it's US!  But the "commanding" is generally the problem (as is the pre-programmed coding!)  Our Executive Function has been so conflated and confuted by emotional and emergent undulations that we simply default to comfort zone languishing.  ENOUGH ALREADY!   Let's grab the reins of Executive Power and take over commanding control of this MASTERPIECE which is US UNBRIDLED … "BRIDLE" it and start a revolution of totally intentional, meaningful, purposeful engagement!  I just started this new paradigm in my own universe and the results, so far, are awesome!  YOU, Inc. is about to move into higher orbit!   Quartermaster