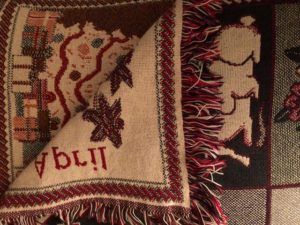 In the throes of partisan politics, one often hears the comment made that this or that person or position is "on the wrong side of history."  Most frequently, such assertions come from "liberal" or "progressive" quarters, railing against those who insist on holding the line against change, who long for the "good ol' days" when things were much simpler and easier to control, or who want to maintain a status quo.
The companion phrase, "He was a 'man of his time'," is often used by apologists to excuse ignorance, prejudice and/or anachronistic reasoning … as well as political expediency.
[Winston] Churchill certainly believed in racial hierarchies and eugenics, says John Charmley, author of Churchill: The End of Glory. In Churchill's view, white protestant Christians were at the top [of the eugenics ladder], above white Catholics, while Indians were higher than Africans, he adds. "Churchill saw himself and Britain as being the winners in a social Darwinian hierarchy."
… [However, Nicholas] Soames [grandson of Winston Churchill] thinks it is ludicrous to attack Churchill. "You're talking about one of the greatest men the world has ever seen, who was a child of the Edwardian age and spoke the language of [it]."  http://www.bbc.com/news/magazine-29701767
**************************************
"[Billy Graham's] most infamous "bonding" with Nixon happened in 1972, when a White House conversation turned to the subject of Jewish domination of the media. Nixon was a notorious anti-Semite—a fact that became clearer after the Watergate tapes—and Graham played to the president's prejudices with enthusiasm."  https://www.politico.com/magazine/story/2018/02/21/billy-graham-death-richard-nixon-217039
But such things are often not only on the wrong side of history, they are on the wrong side of decency, of reasonability, of personal accountability, of INTEGRITY …
… of TRUTH … of the BEST WE CAN BE … of PROGRESS  & PROGRESSIVENESS … of INCLUSIVENESS … of OPENNESS … of CIVILIZATION / of CIVILITY … of NOBILITY … of PERFECTION … of GENEROSITY … of EMPATHY … of ENLIGHTENMENT … of AFFIRMATION … of ASPIRATION … of HUMANITARIANISM / GLOBALIZATION … of ENFRANCHISEMENT … of BUILDING / BETTERING / SAVING THE ENVIRONMENT… of "EXALTED HUMAN VALUES" (a term ascribed to Winston Churchill, himself!)
And what "triggering points" bring about the compelling need to comment on "the wrong side of history"?
            Endemic Prejudice / Racism
            Condemnation / Character Assassination
            Judgmentalism
            Errant Supremacy
            Unfounded "Exceptionalism"
            Immigration Resistance
And what if there WERE a "eugenic hierarchy"?   Would it not then be a compelling agenda of those higher in the scheme of things to assist those lower in the scheme of things to become "all they can be", rather than to keep pushing them down and out?  Or is the threat of competition – or of having to share resources – too compelling?
Perhaps more important here is to acknowledge that the lines are fuzzy and not so black and white as often represented.  It's not always "those castoffs" versus "us".  IQs – even of "white Protestant Christians" – vary from below 50 to 130 or above … and that holds for ALL races!
POINT TO PONDER: When you end up in the ER or the surgical suite under life-threatening circumstances, don't be surprised if the physician-in-charge, plus many of his or her cohorts, have non-white, non-Protestant, non-Christian names … like "Cohen" or "Abboud" or "Jawdeh" or "Baumann" or "Baz".  And don't be surprised if the physician-in-charge just happens to be black or female!  It just may be that they had more guts, backbone and determination – in addition to brains – to endure the exhaustive regimens of medical education and training than WASP Americans who were out playing video games or getting their CPAs and trying to "Beat the System" selling financial derivatives!
Albert Einstein was "slow and awkward student" and a Jewish immigrant.
George Washington Carver started out a slave who rose – despite incredible barriers – to become one of the most highly influential botanists and environmentalists of his day.
It is an emerging "New Reality" that "White Protestant Christian Exceptionalism" will likely NOT dominate the future of the world.  History is moving on, no matter how many warheads are in the nuclear arsenal or how many AK-47s are hidden in closets or openly carried on the streets protecting the Second Amendment.
And where, exactly, is history going?  The overall thrust of history is forward and upward.
Take a look at the most prominent and most effectively engaged "Change Agents".
https://www.smithsonianmag.com/smithsonianmag/meet-100-most-significant-americans-all-time-180953341/
They are all BUILDERS … CONTRIBUTORS … INVENTORS … EDUCATORS … LEADERS
https://quizlet.com/12230630/top-100-most-influential-americans-flash-cards/
Dystopias DO happen, HAVE happened, have sometimes gone on for decades (centuries?), and are still happening.  But there inevitably arise "corrective" / "reformative" / "redirective" forces seeking to establish a more rational and rewarding eutopia … a "true topia" … a place of fairness, justice, and equal opportunity.  "History" has never devised a system that will permanently disable such forces.   These are the forces of history that define its direction — its "sidedness".
While the brain can be "brainwashed", and while humans can be forced into subjection by fear, deprivation and drugs, the human spirit core cannot forever be "Bridled".  It craves freedom and self-determination.  Which is why dystopias depend so uncompromisingly on elimination of any and all who dare raise the specter of independent thought or action.
Dystopian leadership, in fact, is forever at frightful, fretful odds, even with the "machinery" upon which it relies to maintain its control:
"Stalin's terror machine executed its executioners at regular intervals. In 1938 alone, forty-two thousand investigators who had taken part in the great industrial-scale purges were executed, as was the chief of the secret police, Nikolai Yezhov." Stalin once invited an old friend from Georgia to Moscow for a reunion, and after lavishly wining and dining him, had him executed before dawn: "This could not be explained with any words or ideas available to man."  [From "The Future is History" by Masha Gessen]
The last bastion of sanity and sobriety is coherence of conscience.  Integrity and legitimacy cannot forever and will not ultimately be compromised.
* * * * * * * * * * * * * * *
In our most defining moments, we are often compelled to cry: "Life will never be the same again!"   But perhaps life never really WAS what we THOUGHT it was or SHOULDA been or what we tried to make of it.
 * * * * * * * * * * * * * * * *
In the grander scheme of things, we don't need to settle for being "a person of our time" … a person of our culture … a person of our "party" … a person of our genetic heritage (which includes Neanderthal tendencies!) … a person of our associations …   We can become better than any or all of that.  And if we don't or can't, shame on us!  Becoming "better" and more civilized and advancing both ourselves and our civilization is what being a human enmeshed in civilization is all about.  If you're not part of the solution, you're part of the problem.  Let's straighten up and start "righting" our history!!!
* * * * * * * * * * * * * * * * *
What would be the point or purpose of becoming LESS than the BEST we could possibly be?
What would be the point or purpose of becoming WORSE than the BEST we could possibly be?
* * * * * * * * * * * * * * * * *
Quartermaster