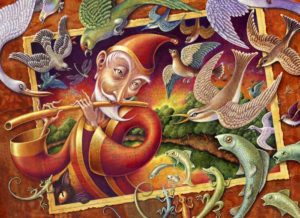 Original artwork by Leah Palmer Preiss
Odd Fellows
Perhaps I was doomed to be an "Odd Fellow" from the start. My dad was a card-carrying member of the Independent Order of Odd Fellows. (Yes, it's a real organization! http://www.ioof.org/) But, quite apart from this formal association, he did a lot of "odd" things informally … like keeping two sets of books as an insurance agent for Appalachian farmers and coal miners and accepting "in-kind" payment or deferred payment or, in some cases, no payment for insurance premiums so that families could be protected from abject ruin, should the bread-winner of the family become disabled or lost. He raised his family in a foreclosed bank building, taught Sunday School, was a Boy Scout leader, served on the local School Board, had one of the largest organic gardens in the region, supported an exchange program for students from Nigeria, and provided scholarships for aspiring local students who would not otherwise have been able to attend college.
Either from inheritance or from default of association, I have also become an "Odd Fellow" … though not card-carrying, and not nearly on such an expansive scale. Among other lesser things, I take shopping carts into grocery stores. I pick up trash off the street. I visit nursing homes. I write an "Odd Blog". I don't watch much television, can't tell you much about Tailor Swift, and don't go to movies. I'm abysmal at Trivial Pursuit. I don't text and drive. I shop at Good Will and the Salvation Army. I cook "odd" stuff, eat leftovers, recycle and have a compost pile. And it's downhill from there: Yes, I even sing in a barbershop quartet that serenades unsuspecting public in unlikely places!
Among other "odd" traits, I also struggle to down an entire beer in an afternoon, while many more "normal" folks can go through an entire case of brew on any given weekend. I was, thus, intrigued by a discussion on NPR about regulating binge drinking in fraternities at the University of Virginia in an attempt to straighten out and sober up an entire campus following the Rolling Stones article on a fraternity-associated gang rape. (http://weku.fm/post/uva-looks-ways-curb-drinking-its-frat-houses).
When I was "coming of age", such blatant opportunities to "waste" oneself didn't occur often, but those that did seemed "juvenile", at best, unrewarding, in general, patently "foolish" in the main, and exhaustively debilitating; my particular journey seemed plenty tough enough without seriously compromising my limited ability to cope with life's vicissitudes when I had all my faculties intact. To a significant number of fellow travelers, that was just ODD – and completely unnecessary!
However, it did occur to me that significant numbers of folks appear to need the positive reinforcement of negative experience. From that perspective, it seemed that a "permissive" policy on alcohol use is probably helpful: a person who needs a "near death" experience from overdosing on alcohol or drugs before sobering up should probably have that experience early in life.
Which raises the fundamental question: Why is doing "sensible" things – never mind anything that would be perceived as personal advancement or social beneficence – "ODD"?
I think it has a simple answer:
Base-level self-esteem requires external affirmation – particularly from a peer group. And the more brazenly risk-taking we are – the more "shock and awe" we can generate, the more "credentialed" we become as club-worthy, particularly among the ostensibly defiant. In fact, defiance, either overt or covert, carries its own mark of distinction in most quarters. Bravado/machismo – as opposed to being a "wimp" or a "Goody, Goody Two Shoes" – i.e., "ODD" or "UNCOOL" – is the name of the base-level game. [This may also be a contributing factor in the attraction to "Conspiracy Theories".]
More genuine, more mature, more sustainable and more "legitimate" self-esteem comes from internal affirmation … from becoming comfortable in one's own skin … from knowing who we are … from taking pride of ownership in who we are becoming … from building capacity … from creating something(s) of intrinsic value … from seeing our OWN unique enterprise and "stake" in the world emerging … from being creatively "different" in the most positive way(s).
Aspire HIGHER!
Choose Something Like a Star
"… not even stooping from its sphere,
It asks a little of us here.
It asks of us a certain height,
So when at times, our paths, unblazed,
Allow us to digress too far,
We may choose something like a star
To stay our minds on and be staid."
Adapted from Robert Frost
Here's a secret: It's OK to be defiant in becoming "creatively different". Defy the odds. Defy "average". Defy mediocrity. Defy gravity. Defy failure. Defy any person who says you can't accomplish what your passion dictates. Defy convention. Be ODDLY UNCOOL. Be the ODD GUY OUT. Do stuff that "ordinary" people don't, won't or can't do. It's the CRAZIES … the ODD FELLOWS … the Out-of-the-Box Visionaries that make the world go 'round – and they have a lot more fun in the process! Become an "Odd Fellow" in a "club" of your own making … follow your own star. It can be one of the most exhilarating, enriching, satisfying and fulfilling pursuits of life. You are now LICENSED to become an ODD FELLOW Extraordinaire!
"Anybody who IS anybody has taken great pains to rise above the Paleo template
toward which we ALL gravitate in the unperturbed moment."
Quartermaster
"Two roads diverged in a wood, and I –
I took the one less traveled by,
And that has made all the difference."
From "The Road Not Taken"
Robert Frost