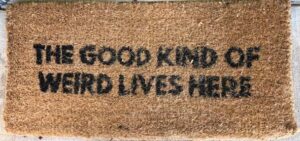 Doormat encountered in Sugarcreek, OH.
So, what in the world would a "Good Kind of Weird" look like?
I have a few suspicions:
Does his/her homework … is basically a NERD!
Has Boy Scout / Girl Scout tendencies.
Isn't really immersed in Social Media
Watches/Listens to TED Talks rather than to cat videos on YouTube
Shows up for school or work BEFORE the opening bell and leaves AFTER closing
Looks for problems to solve /\ Is a "Difference Maker" /\ A '"Change Agent"
Assists others with difficult tasks … is a TEAM PLAYER
Seeks out guidance, inspiration and mentoring and provides such to "newbies"
Refills the copier with paper when it's low
Takes a shopping cart INTO the grocery store from the parking lot when shopping
Volunteers for community service projects
Doesn't know who Ted Lasso is … or Kim Kardashian
Has more-than-ample Savings and Retirement Accounts, but very little "discretionary" money to burn
Doesn't invest in candy bars, Hostess Cakes, Ding Dongs or cryptocurrency … or tobacco, alcohol or drugs
Dilutes his/her Diet Coke with water; "dilutes" ice cream with low-fat milk
Exercises routinely and [mostly] eats healthy food
Shops at Goodwill and the Habitat Restore
Sings in a barbershop quartet and a church choir
Supports humanitarian projects
Is not a party to "Tribal" tenets
Is not into seeing "how much you can get away with"
Supports "sustainable living"
Is always building enlifening RESILIENT RESERVE
"Nothing makes you feel GOOD
– or feel BETTER –
BETTER than doing something positive for someone ELSE."
Personal Challenge: See how much "weirding" you can get away with!
"Two roads diverged in a yellow wood, and I –
I took the one less traveled by,
And that has made all the difference."
Robert Frost
"The Road Not Taken"