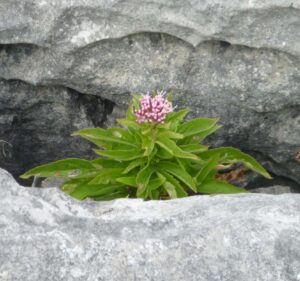 "I think I could turn and live with animals, they are so placid and self-contain'd, / I stand and look at them long and long. / They do not sweat and whine about their condition, / They do not lie awake in the dark and weep for their sins, / They do not make me sick discussing their duty to God, / Not one is dissatisfied, not one is demented with the mania of owning things, / Not one kneels to another, nor to his kind that lived thousands of years ago, / Not one is respectable or unhappy over the whole earth." Walt Whitman
* * * * * * * * * * * *
"Anxiety is the mind and body's reaction
to stressful, dangerous, or unfamiliar situations."
* * * * * * * * * * * *
Anxiety often arises as a cascade of nerves firing with no productive or "graspable" target … like an ammunition cache imploding, weakening and threatening the very structures in which they are housed. Sometimes there is a definable source or target, but it's often compounded by nefarious foundational elements: Restlessness /\ Inability to concentrate /\ ADHD …
In severe cases, anxiety keeps CHURNING … a repetitive re-firing of the synapses with an inability to effect an exit … having no visible or viable "OUT" from an uncomfortable, dangerous, "lost", stressful or threatening situation … either real or imagined.
From where I sit … in this moment … anxiety seems the most prevalent / most insidious challenge of 21st Century existentialism. People in drug rehabilitation circumstances uniformly complain of "anxiety" … 100%! Their drug use, they say, is mainly driven by the desire to "feel normal" and function "normally" … even as they use abnormal interventions to arrive at such "new normal" conditions, gravitating, irretrievably, toward addictive dysfunctionality.
Many of the rest of us who shun addictive drugs don't fare much better, relying on surrogate "crutches" and pseudo-drugs to soothe and calm the raging spirit within.
TRIGGERS for anxiety may be either real or imagined … or both.
"We are more often frightened than hurt,
and we suffer more in imagination than in reality."
Seneca
A running list of anxiety "Triggers" is anticipated, but these are offered for starters:
SLEEP DEPRIVATION :: It's mega-disorienting
SEEDS OF DISCOMBOBULATION / "UNGROUNDINGS" in entertainment

Dystopian Action Movies / Horror Movies / Video Games / Virtual Reality

SOCIAL MEDIA SEEDS OF DIMINISHED SELF-ESTEEM
FEAR OF MISSING OUT (FOMO)
SOCIAL ISOLATION … Loneliness … Lostness
"SUGAR BUZZ" – OVER-AMPED METABOLISM

Also WITHDRAWAL from "SUGAR BUZZ"

LACK OF A SENSE OF AGENCY
LACK OF EXERCISE / ENERGY BURNOFF
CROSS-WIRED BRAIN from cross-wired engagement
SALT
CAFFEINE
WORK WORRIES
HEALTH WORRIES
LACK OF A SENSE OF CONTROL
FINDING AN OUT
Sometimes the best one can do is to TOUGH IT OUT!
Life is like that.
NOTE: Life's "Toughness" is generally not permanent, except in pathological circumstances.
* * * * * * * * * * *
Where is RESILIENCE when you most NEED it?
RESILIENCE helps, but needs to be engaged early and bolstered at every possible opportunity.
* * * * * * * * * * * *
Your best "OUT" is TIME … particularly the judicious use of UNSCHEDULED TIME … and PATIENCE!
Rome wasn't built in a day.
And they can't fire you or put you in jail if you haven't intentionally or stupidly screwed up.
NOTE: "First Chances" don't always, if ever, return highest accolades. Your best shot without a "trial run", repetition and experience at the front line isn't going to be your best shot EVER. But the FIRST BEST you can do will certainly help get you a SECOND CHANCE!
BIG things take incubation, they generally have steep learning curves, and they require incremental PROBLEM SOLVING. KEY POINT: Start EARLY!
Michelangelo couldn't sculpt the last pieces of marble to create his masterpiece DAVID until he had sculpted everything ahead of it. And he had to work around the grain of the marble slab as he went, requiring him repeatedly to "revision" the figure INSIDE the marble slab before the final rendering took its final shape.
* * * * * * * * * * * *
PERSONAL NOTE: I needed to build a landscaping RAMP to get our mower and yard cart up and down over a retaining wall behind our house. The retaining wall was curved and not "square" to the neighbor's fence, but the RAMP needed to be square to the fence to maximize access. Moreover, the ground in front of the retaining wall was uneven. Unfortunately, no landscaper would touch the project "with a ten-foot pole"!
The final design, a wood frame with deck treads for the "bridging", though simple in concept, was highly convoluted in execution, as I had to solve problems I didn't even know existed at the start. But you've gotta start SOMEWHERE! So I bought some wood and started laying it out. The final solution emerged only slowly – through a whole lot of sleepless nights! But it turned out to be one of my masterpieces!
STRATEGIZE / PLAN / CONSPIRE, but don't FRET.
OK, go ahead and FRET, if it helps! Sometimes you simply have to go "kicking and screaming all to way to the finish line" – "Toughing it Out", if you must.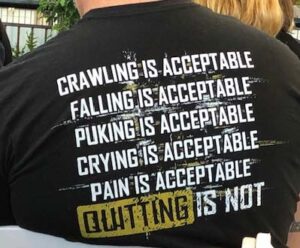 Meanwhile, hike up your "By God Armorall Coveralls" and get on with it.
Just make sure YOU are not the problem!
Start SOMEWHERE! Do a first draft. Build a prototype.
* * * * * * * * * * * * *
When you hit a snag: DON'T TURN ON THE TV OR FIRE UP SOCIAL MEDIA!!!
TAKE A TIME OUT!
Take a walk.
Put your body in motion to diffuse the angst of the mind.
It will help generate CLARITY.
* * * * * * * * * * * *
More on BUILDING AN "OUT" …
First of all, don't keep putting yourself in a position where you are unable to shoulder the "percussions" associated with intransigent anxiety. Stop "shooting yourself in the foot"!
Start connecting any DOTS you can find to help build a THROUGHWAY for navigating the challenges – real, not imagined. And keep building up CREDITS and CREDENTIALS that will provide LEVERAGE :: Do something USEFUL! Take COMMAND and CONTROL!
Look for HELP. An anxious circumstance may not be entirely your fault [BTW: Let's do everything possible to minimize that, shall we?], and it may not be best resolvable by you alone.
Build alliances for sharable responsibilities and sustainable collective engagement.
Make a case for more TIME and RESOURCES, where applicable [See "Credits"].
Practice MINDFUL INCUBATION … Consider alternative approaches and look for both triggering and corroborating raw materials as you continue avidly "Mining the Universe".
Be brave enough to walk away from LOST CAUSES. Hopelessness can be fatal, but walking away from it rarely is.
Get all the incidentals and accidentals out of the way. Don't let them pile up causing you to TRIP over them. [See "Held Hostage" https://ertiaunlimited.com/held-hostage/ ]
Develop an attitude of EVENTUAL SURMOUNTABILITY. Anything worthy of all the energy you can muster WILL get done if you simply KEEP DOING.
Everything you deserve is going to take everything you've got.
If you die trying, much will, nonetheless, be attained in the process,
and you will not have died in vain.