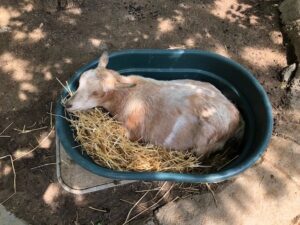 It's already 78 degrees outside this morning at 7:45 am, with a forecast of 95. I'm feeling "trapped" in an air conditioned house … unable (or unwilling?) to anticipate engaging in a full list of outdoor activities … like taking my "constitutional walk" around the neighborhood, trimming undergrowth and overgrowth in the woods, mowing the lawn, sorting stones for two landscaping projects, or doing a plethora of other chores and embellishments that would have me more productively engaged.
I've also got to plan around looking after the neighbors' cats and watering their garden (prospects for tomatoes and peppers soon to come help mitigate this "hostage" situation … along with the fact that the neighbors just finished a round of "housekeeping" for us while we took a quick getaway last week!)
And I've got to plan meals around the weather – refusing to fire up the grill or oven when there's a perpetual chance of rain and it's 90+ degrees outside.
But it's an excellent excuse to arrange TAKE OUT or DELIVERY!
Note 1: This very moment I can't get to the mailbox because somebody's watering the lawn!
… but it doesn't hold me back from surfing the web
or shopping at Wayfair and Amazon!
Other things that hamper my unfettered navigation about the universe include:
Unrealistic Expectations
Unfounded Assumptions
Unwarranted Entitlements
Chasing Dead-End Conspiracy Theories
Mindlessly entertaining myself
On the FLIP SIDE of all this, I sometimes actually have to "rig" the system – building "hostage walls" – to keep from doing myself harm … like brushing my teeth after a meal so I'm not tempted to supplement more than ample caloric intake with even MORE caloric intake!
Worst of all is to be held hostage by lack of KNOWLEDGE, lack of TOOLS, lack of SKILLS, lack of OPPORTUNITY, lack of CONNECTIONS / MENTORS, lack of ENGAGEMENT …
Without question, the ultimate HOSTAGE SITUATION was the COVID-19 Pandemic. Students and teachers couldn't get to school, many businesses had to pivot, reconfigure or close, everybody had to wear masks, people who tested POSITIVE had to quarantine for up to three weeks, employees had to work from home, people with family members in an ICU couldn't visit – and many died alone, everybody had to learn to ZOOM, the SUPPLY CHAIN was severely interrupted, leading to marked shortages in staples, etc. The resulting deprivation and isolation took an unconscionable toll on mental health.
(NOTE 2: My lawn mower is currently in the repair shop "waiting for parts" to arrive.)
So, the operational question here is: How do we DEAL with being "Held Hostage" by any or all of the above?
Alternative "Framing" helps … such as asking the questions:
Is this really all THAT important – NOW?
Do I really need to do this at all?
Can I put it in a queue for later?
Can I do ONE THING NOW/NEXT to help move it off dead center?
Can I exchange this "Hostage Situation" for another more resolvable one?
Does anyone ELSE have any vested interest in helping resolve this situation?
Am I "making mountains out of molehills"?

There's no water in the coffee maker reservoir

Do I have to do EVERYTHING?
If all else fails, simply Suck it up and Deal with it! Much of it is "all in your head"!
Other factors that can be helpful in resolution include: Determination, Flexibility, Creative Resourcefulness, "Unbounded" / "Out-of-the-Box" Thinking, Risk-Taking, Imagination, Viable Options, Strategic Alliances, Prioritization … and PATIENCE!
[Also check out "Presilience" https://ertiaunlimited.com/presilience/ ]
[Also check out "Dance With Life" https://ertiaunlimited.com/?s=dance+with+life&submit= ]
NOTE 3: Serendipity happens when you least expect it! The following happened just as I was writing this offering:
BACKGROUND: A visit to our son's house (some weeks ago) had revealed a broken glass panel on his framed graduation diploma, which I dutifully brought home for EVENTUAL repair/replacement. However, repetitively tip-toeing around the broken-framed diploma in my office — SUMMA CUM LAUDE, no less — had become a royal nuisance – holding me "hostage" from doing other stuff!
FINALLY, with all of the summer heat "holding me hostage" from work outside, I had tentatively planned a trip this very afternoon to a framing shop to get it fixed.
However, a momentary, wandering glance at the bookshelf above my computer revealed a gloriously framed certificate documenting 25 years of Perfect Attendance at my pre-retirement job, and the certificate was about the same size as his diploma. It was a "No-Brainer" decision to exchange the framing on-the-spot. I can't wait to present the final product to him!
SUMMATION: Be attentive. Stay alert and aware. Be PATIENT. And PLAN: TIMING IS EVERYTHING! [I've just been informed the house is getting cleaned this afternoon – a pending "hostage situation", meaning I've got to find stuff to do elsewhere … or else!] Quartermaster